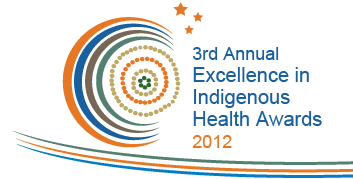 The Deadly Vibe Group has won a prestigious national Indigenous health award in the category of Environmental health initiatives – Improving living conditions and quality of life.
Vibe accepted the award at a gala dinner at the 3rd Annual Excellence in Indigenous Health Awards 2012, held in Sydney on Wednesday night.
The awards are given in recognition of the inspirational work from service providers, communities and individuals making a difference to 'Close the Gap'. They celebrate innovation, success, resilience in Indigenous service delivery.
The environmental health award is about creating and maintaining environments which promote good public health.
Vibe entered the Vibe Project in the category, consisting of the Vibe Alive Festivals, the National Indigenous 3on3 Basketball and Hip Hop Challenge – the Vibe 3on3®, the Deadly Awards, Deadly Vibe magazine, InVibe magazine, Deadly Sounds Radio program and Deadly TV which produced Living Strong and Move It Mob Style.
All Vibe products are focused on improving the primary health and social and emotional wellbeing of Aboriginal and Torres Strait Islander people. Vibe's mission is "To support all Aboriginal and Torres Strait Islander people in reaching their full potential by providing positive imagery, identifiable role models and accessible information to improve community and quality of life for all."
In accepting the award, Vibe Chief Executive Officer Georgia Cordukes and Head of Events Mayrah Sonter thanked "all the staff at Vibe, the hundreds of Indigenous communities visited and the hundreds of thousands of young people who have attended and supported Vibe events and products over 18 years."
Vibe congratulated other nominees in the category, who were working tirelessly to improve the health of our First Australians.
Vibe Managing Director Gavin Jones said he was "honoured that the work of Vibe had been recognised at a national Indigenous health award."
"Our insight has always been to engage our young people through what unites us, namely music, sport and culture. Once engaged, we deliver the important information on health and lifestyle issues such as drug and alcohol, chronic disease, domestic violence and mental health," Gavin says.
"We don't preach, or tell people what to do, but we have a real, two way conversation with Aboriginal and Torres Strait Islander people that is respectful. We've been doing that 18 years, and I think we have a lot of things right given the results we get."
For media enquiries contact Maryann Weston on (02) 48 228230 or [email protected]